Dyck dog harnesses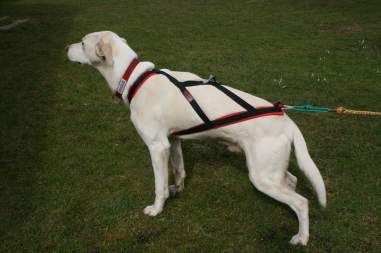 X-Back KX from Dyck
The new X-Back from KX incorporates the experience of many experienced top mushers. Material: polyester strap with effective padding for long use, wear resistant, water repellent, padding covered, reflective.
In this harness is everything that distinguishes a good harness:
Very good fit, especially for sporting dogs.
The optimal material, light, durable and with the right flexibility.
Very elaborately padded.padding seamlessly made from one piece. Only very high quality durable foam is used, which provides optimal comfort for the dog, and does not absorb water.
A special, new type of harness automatically compensates for the fact that the slightly oblique pull of the tug leash puts one-sided strain on the dog. This significantly reduces the tendency of some dogs to run at an angle. Ultimately, this means more direct power transmission and more efficiency on the trail.
The protruding reflective tape is very easy to see in the glow of the headlamp.
The different sizes are additionally marked by colored end loops and can thus be quickly identified.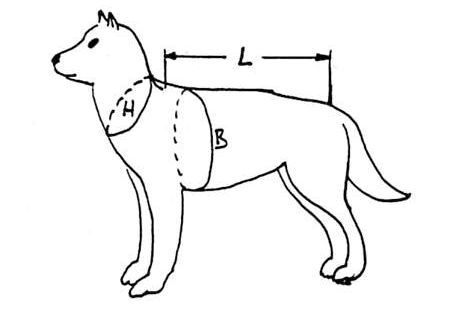 Instructions for measuring the correct size:
Only when the harness fits well will its benefits really come into their own. Therefore, please follow the instructions exactly when you measure your dog.
You will need a flexible measuring tape, but you can also use a leash.
Neck circumference: The neck circumference is measured at the point where the collar lies.
Chest circumference: The chest circumference is measured directly behind the front legs.
Back length: The back length is measured from the withers (the two small humps above the shoulder blade) to the base of the tail.
Measure all measurements so that the coat is well compressed. (This is also the case later when the dog is pulled).
Helpful is additionally a weight indication and the breed of the dog.
EUR 39,00/Piece (plus shipping)
Größentabelle für X-Back-Geschirre
Größe
1

2

3
4
H
39
40
42
44
B
60
63
66
68
L
48
50
52
54
Größe
5
6
7
8

H
46
47
49
50
B
71
73
76
79
L
56
58
60
62
Dyck collars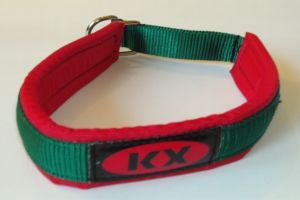 The collars of KX fit in the sizes to the harnesses, so e.g. to the harness No.5 fits collar No.5
12,85 EUR/piece (plus shipping)
LongLife Bootie von Dyck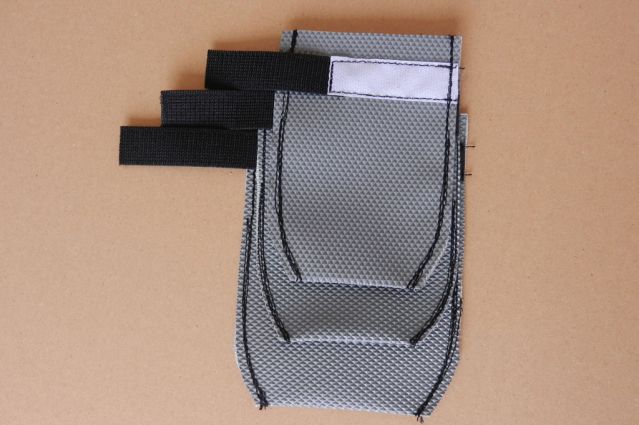 The bootie with the highest wear resistance
extremely robust bootie for asphalt and stony ground
best traction due to abrasion resistant pimple sole
good hold on the paw due to elastic velcro strap
up to 3x longer durability than Cordura 1000-booties
Unit price: 3,90 EUR
from 20 pieces: 3,60 EUR
from 50 pieces: 3,30 EUR
Price for larger quantities on request
(plus shipping in each case)
Size chart
To measure the width of the paw should be loaded. It is optimal if the dog lifts the other paw.the paw is placed on a tape measure or on a sheet of paper and traced.
Size
XS

S
M

L

XL

XXL
Paw measure to [mm]
50
60
70
80
90
100
Color code
Other accessories
Schneeanker -

(68,00 EUR*/Stück)

feuerverzinkt

Stakeout Pfahl heavy -

(41,00 EUR*/Stück)

aus Edelstahl
Die Stange ist 75 cm lang und hat einen Durchmesser von 18 mm. Sie besteht aus 1,6 Kg Edelstahl.
Die Form des angesetzten Keils verhindert das Verbiegen bei Fehltreffern und erleichtert das wieder Herausschlagen.

Stakeout Pfahl light -

(52,00 EUR*/Stück)

aus Edelstahl
Die Stange ist 75 cm lang und hat einen Durchmesser von 18 mm.
Die Form des angesetzten Keils verhindert das Verbiegen bei Fehltreffern und erleichtert das wieder Herausschlagen.
nur 950 Gramm leicht